If I'd known the best diet for anxiety fifteen years ago… I would have jumped on it immediately. Spending my two-week training time at a new job just trying to function like a normal human (ie, NOT having a panick attack) was not what I was prepared for.
Sure I had lots of stress in those previous months… new job, new city, new house, and lots of months of trying to get pregnant to no avail. But getting to the point that I felt like I was going crazy all day, every day was not what I signed up for.
And that's unfortunately how so many others roll into their first anxiety attacks… unsuspecting. The sad truth is that many others have experienced this since childhood, especially the teenage years.
We had to deal with this first-hand with our oldest daughter, and I was at a loss. Because I, too, knew what it felt like…but at the time I was under the misconception that it was because she was raised in the day and age of 'participation trophies' and needed to just suck it up. She didn't understand what 'real' stress felt like.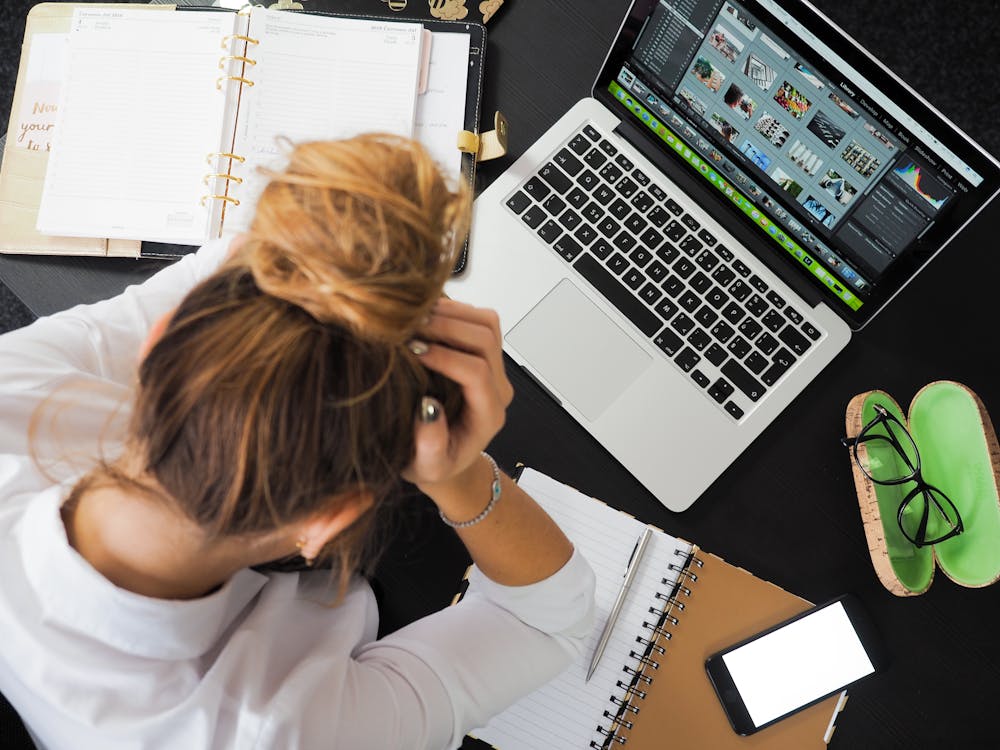 It took a lot of education and self-imposed nutritional therapy to understand that anxiety (and depression) are highly influenced by what we eat as well as how we treat our bodies in a holistic way.
It's not a 'frame of mind' to suffer from this…It's a chemical state.
But what many fail to understand is that just because it's chemical doesn't automatically mean medication is necessary. I don't for a second think medication may not be necessary; I personally took it for a decade.
But what I didn't know then, and do know now, is that anxiety and depression can be largely resolved by lifestyle changes–including an anti-anxiety diet.
Anxiety and depression symptoms
Years ago I thought anxiety and depression looked like people who just withdrew and worried a lot. Now I know better. In fact, symptoms can include any of all of these:
Feel like you're going crazy
Claustrophobic
Irritable
Uninterested
Unmotivated
Brain fog
Numb
Chest pain
Short of breath
Stomach issues
Heart palpitations
Sweating
Clammy
Physical pains where you're holding stress or trauma
Overly emotional
Sad
ADD
Out of your body
And this isn't an exhaustive list.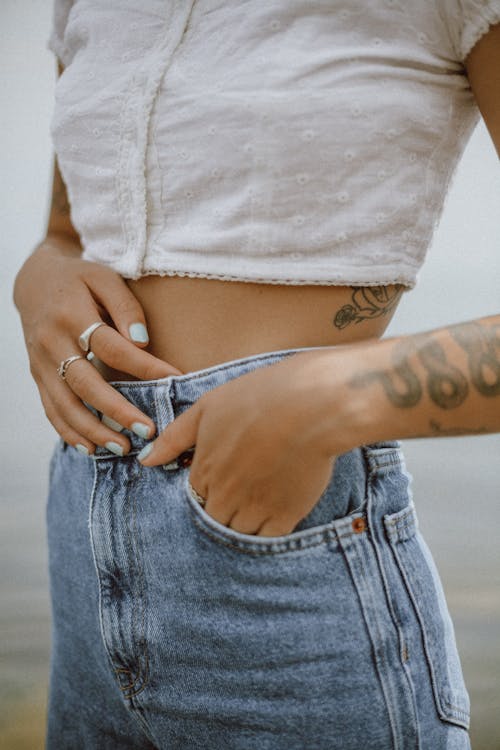 The Gut-Brain Link
What's been discovered in the last few decades is that the gut and brain and intricately linked. So much so that the gut is now called 'the second brain'.
Research has shown that our connection has a ton to do with our gut bacteria and nutrition levels.
Nutrition levels are usually pretty self-explanatory for many: Eat more of what you're deficient in.
Gut bacteria can be a bit trickier. This is because it isn't as simple as popping a probiotic once a day. Gut bacteria is influenced by what you eat that you should or shouldn't, the amount of exercise you do or don't get, how well or poorly you're managing stress, and how much and the quality of sleep you are or aren't getting.
These are called the CORE 4 pillars of health at TRUEWELL, and they work in a holistic and synergistic way. They can all stack together to work for or against you. Usually the best place to start is nutrition because you gotta eat everyday.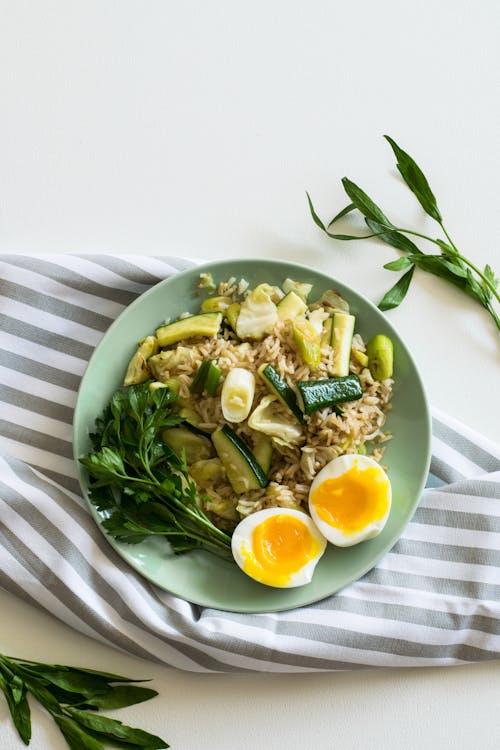 The best diet for anxiety and depression
After being in the wellness and nutrition space for over a decade, I've personally been through many dietary styles and researched even more. And what I've come to find is that although many dieticians and nutritionists dismiss dietary styles that eliminate some foods… this isn't always a bad thing like they'd have you think.
What's become popular of late is health 'gurus' giving advice that you don't have to quit this or quit that and that it's unhealthy to restrict yourself in that way.
I have a problem with this when it comes to conditions that rely on quitting certain foods. Because the price you pay isn't just your physical health; it's also your quality of life.
And this is especially true when it comes to anxiety and depression.
That being said, my highest recommendation for an anti-anxiety and depression diet is an anti-inflammatory diet. Here's why:
The AI diet starts with the foundation as the Mediterranean diet, which has had heavy research for the last 15-20 years backing it up.
An AI diet goes even further than that to be truly personalized for your unique needs.
It doesn't normally require counting anything (unless you're also using it as a tool to lose weight).
It promotes highly nutritious foods.
It truly is a dietary style meant to be incorporated as a way of life, for life.
How does an Anti-Inflammatory diet help anxiety and depression?
An anti-inflammatory diet starts out with the Mediterranean diet as a foundation. The Mediterranean diet follows these guidelines:
Cut out sugar and processed foods, and instead eat complex carbohydrates like vegetables, low-sugar fruits, beans and legumes, and whole (or cracked) grains for high amounts of fiber and resistant starches. These are the best foods to feed your good gut bacteria (remember we talked about how important gut health is?)
Cut refined flours: These are absorbed into the bloodstream extremely fast and have the same effect as eating sugar.
Stop drinking alcohol (at least temporarily until you know how you react to it). The Med Diet includes red wine, in moderation.
Cut out trans fats and most saturated fats.
The basic Mediterranean Diet includes low-fat dairy in moderation
To go a step further in refining the diet for anxiety and depression, you should also:
Cut out gluten as it's been shown to induce inflammation in the gut even in people who don't have celiac. Those with anxiety and depression commonly also have adrenal fatigue on some level, and gluten aggravates this state as well
Eliminate artificial sweeteners, which have also been shown to have a huge negative impact on gut bacteria
Cut out dairy until you know how you react to it
Consider an elimination diet to determine if you have food sensitivities
The way that this helps with anxiety and depression is that it eliminates the foods putting your body into an imbalanced state via the gut, and starts to repair the gut so that it can function at peak performance.
This allows your neurotransmitters to do their job in managing anxiety and depression properly.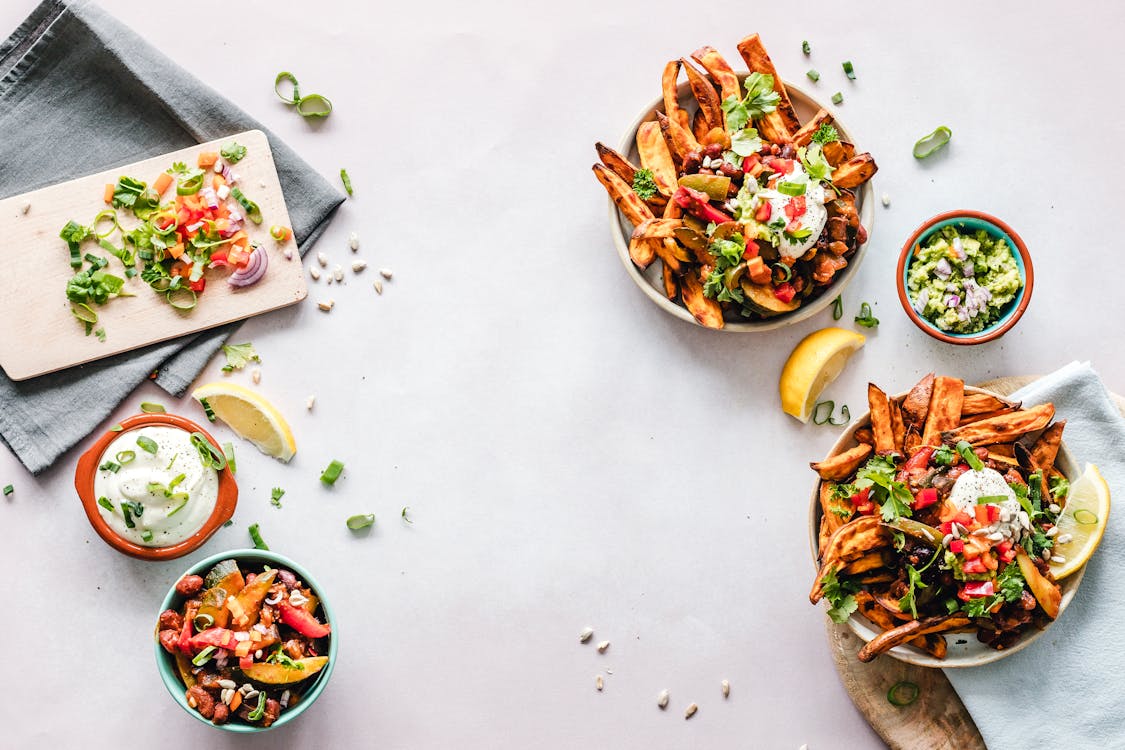 What foods can I eat for anxiety and depression?
The best place to start is getting a balance of macros at each meal with the TRUEWELL trifecta:
High quality protein (at least 3 oz at each meal; the size of your palm). Examples would be fatty cold-water fish (salmon, tuna, mackerel), organic grass-fed beef, pork, or poultry. Soy is also an option (organic).
Fiber (gluten-free) with resistant starches (fill your plate as much as possible with vegetables, and then add complex carbs like whole or cracked grains, beans, or legumes).
Healthy fats (about the size of your thumb). These would be monounsaturated fats (olive or avocado oil), a few nuts, or some cheese (if you can tolerate it without symptoms).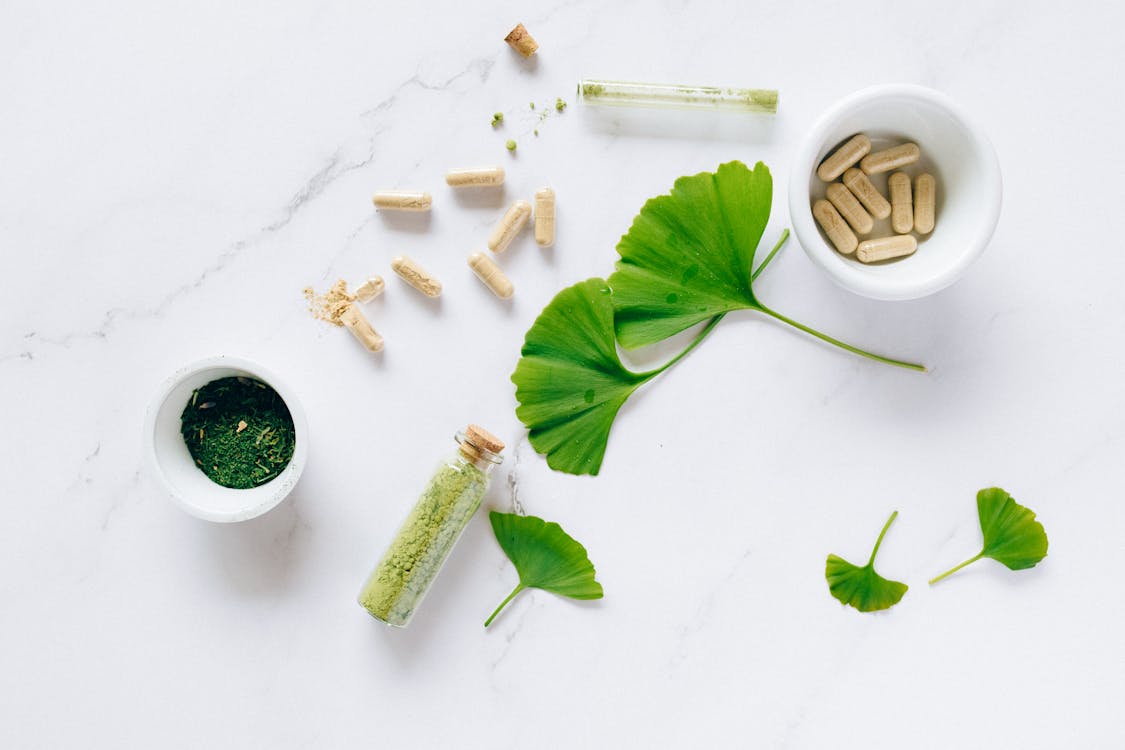 You should also add a really good probiotic. But just know that these don't really do much if you're not taking them with complex carbs. This is because the fiber and resistant starches are food for your good gut bacteria. When these little bugs are happy, they reduce inflammation in your gut and body.
A good multi-vitamin with methylated forms of Vitamin B is also really helpful as B deficiencies have been linked with anxiety and depression.
A great place to start with the Anti-Inflammatory diet is right here at TRUEWELL.
I've personally beat my anxiety and depression with diet and lifestyle, and no longer take meds (after relying on them for 10 years!) to manage this. In five years I've only had one panic attack, and it was caused by food poisoning. (And look – I've got 4 kids and operate the majority of the time as a single working mom, so that should say something!)
If you're ready to get started balancing your body with nutrition to finally have anxiety-free days that you're excited to live, grab the Anti-Anxiety Nutrition Starter Kit and learn how the Anti-Inflammatory Diet is the solution you've been looking for, and how to get started on it QUICK. 👇
Kick anxiety to the curb by giving your body the nourishment it's been missing.
Learn the two biggest offenders in foods when it comes to anxiety and depression,
Get started QUICK with a 3-day Anti-Inflammatory meal plan with delicious, fool-proof meals hand-picked to start obliterating anxiety,
Discover the CORE 4 pillars that all work together either for you or against you when it comes to managing your anxiety.
Enter your name + email to get the Anti-Anxiety Nutrition Starter Kit!
*Disclaimer: This is for informational purposes only and not intended to diagnose, prevent, or treat any condition. If you're having suicidal thoughts, get help immediately.