Summer is in full swing, and there's nothing quite like a sizzling grill to usher in the season. (Not that my husband needs summer as an excuse.)
Grilled salmon and sautéed green beans make for a wholesome, flavorful meal that's perfect for any weeknight meal. Get ready to elevate your grilling game and enjoy a healthy, mouthwatering meal that's sure to impress even your pickiest eaters.
😎🍉THIS GRILLED SALMON WITH SAUTEED GREEN BEANS RECIPE IS FEATURED IN OUR SUMMER ANTI-INFLAMMATORY MEAL PREP SESSION + GUIDE! CLICK HERE TO SEE IT IN ACTION AND GET THE FREE MEAL PRINTABLE MEAL PREP GUIDE!
Ingredients
To reap the health benefits of these dishes, it's important to understand why salmon and green beans are a nutritional powerhouse.
Salmon is a great source of omega-3 fatty acids, which have been shown to reduce inflammation, protect against heart disease and stroke, and potentially even improve brain function.
Similarly, green beans are packed with vitamins and nutrients like vitamin C, vitamin K, and iron, all of which contribute to healthy bones, skin, and immune function.
Plus, both dishes are high in protein and low in calories, making them a great choice for an anti-inflammatory dinner that won't spike blood sugar.
Salmon
To create the perfect grilled salmon, you need to start with a good cut of fish.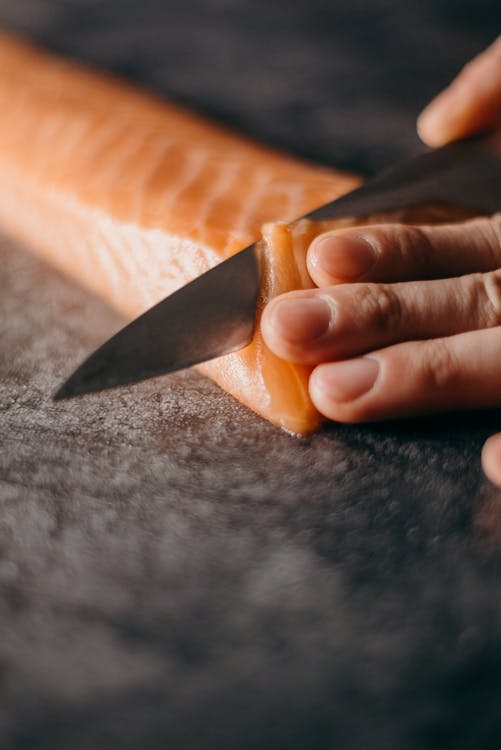 Look for fresh salmon fillets with firm, pink flesh and no signs of discoloration or strong odor. Choose wild-caught salmon over farm-raised for the healthiest option.
Green Beans
When you're picking out the best summer green beans, there are a few things you should look for. First, go for beans that are bright green and feel nice and firm when you touch them.
Avoid beans that look dull or have any yucky spots on them. You want the beans to be crispy and make a snapping sound when you bend them.
Also, try to find beans that are skinny and smooth because they're tastier and easier to cook. If you can, get beans that are all about the same size so they cook evenly.
Instructions
This meal is a bit of a back-and-forth dance, so be patient but have your ingredients ready to go.
Grilling salmon to perfection
Before grilling, remove the skin from the salmon fillets. To do this, use a sharp knife to make a small incision between the flesh and skin at one end of the fillet. Hold the skin with one hand and use a back-and-forth motion with the knife to separate the skin from the flesh, pulling the skin away as you go.
Next, season your salmon fillets with the dry seasonings.
When grilling, preheat your grill to medium-high heat and lightly oil the grates. Place the salmon fillets on the grill, skin-side down if left on, and cook for 6-8 minutes per side or until the flesh is opaque and flakes easily with a fork.
Grilling is a great way to prepare salmon, as it highlights the natural flavors of the fish and adds a smoky touch to it. Before grilling, make sure to preheat your grill to medium-high heat and lightly oil the grates to prevent the fish from sticking.
The key to grilling salmon is to avoid overcooking it, as it can quickly become dry and lose its delicate texture.
Creating Flavorful Sauteed Green Beans
These sautéed green beans will add a delicious pop of flavor to your grilled salmon dish, making it a complete and satisfying meal for a summer day.
To create flavorful sautéed green beans, start by heating up a pan with a little bit of avocado oil. You want just enough oil to coat the bottom of the pan. Once the pan is hot, add the green beans, salt, and onion flakes. Stir the green beans to ensure they are evenly coated with the oil and seasoning.
Cook the green beans until they are tender but still slightly crispy, which should take around 8-10 minutes. You want to be sure not to overcook them as they can turn mushy and lose their flavor.
Other sides to pair it with
This simple meal really is very low-carb. For some this is perfect. But if you'd like to add more complex carbs, a small serving of brown rice or quinoa are perfect sides to pair it with. These whole grains give some healthy carbohydrates and fiber to keep you feeling full.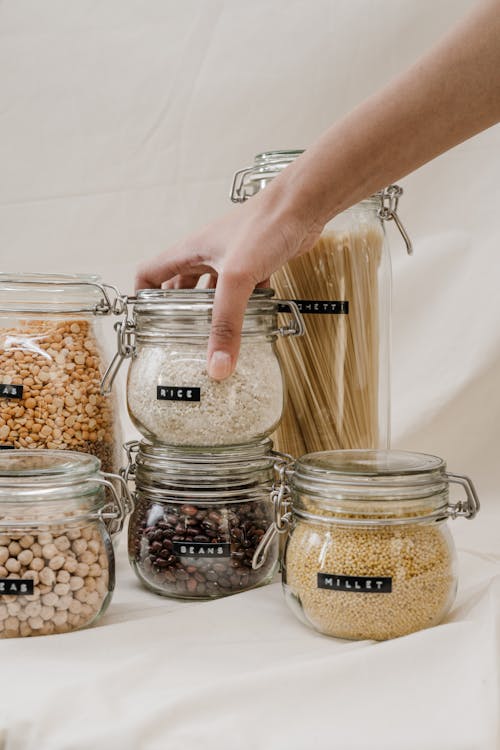 Notes
Make sure fish reaches an internal temperature of 145 F (63 C) using a food thermometer.
To prevent the salmon from sticking to the grates, make sure the grill is super clean, and that the grill is super hot. (You can use tongs and a paper towel coated in oil to get the grates well-oiled.)
😎🍉THIS GRILLED SALMON WITH SAUTEED GREEN BEANS RECIPE IS FEATURED IN OUR SUMMER ANTI-INFLAMMATORY MEAL PREP SESSION + GUIDE! CLICK HERE TO SEE IT IN ACTION AND GET THE FREE MEAL PRINTABLE MEAL PREP GUIDE!
Print
Grilled Salmon with Sauteed Green Beans
With a (sugar-free) sweet soy sauce marinade and hints of lemon and garlic, this Grilled Salmon pairs beautifully with sauteed green beans for the perfect quick and delicious summer dinner!
Author:
Prep Time:

2 hours

Cook Time:

20 minutes

Total Time:

2 hours 20 minutes

Yield:

6

1

x
Category:

Dinner

Method:

Cooktop + Grill
Ingredients
Grilled Salmon
1 1/2

pounds

salmon fillets (wild-caught)

1 tsp

lemon pepper seasoning

1 tsp

garlic powder

1/2 tsp

sea salt

1/3

cup

gluten-free soy sauce (or Liquid Aminos)

1/3

cup

brown erythritol (Swerve brand is great)

1/4

avocado oil
Sauteed Green Beans
1

lb

Fresh green beans
salt to taste

1 TBSP

onion flakes

1 TBSP

avocado oil (for the pan)
Instructions
Season the salmon fillets with the lemon pepper, garlic powder, and salt. Place the salmon in a large baggie.
Stir together soy sauce (or liquid aminos), brown erythritol, water, and avocado oil in a small bowl until the brown erythritol has dissolved.
Pour the mixture into the baggie of the salmon fillets. Seal, then turn to coat the fillets.
Let them marinate for at least 2 hours in the fridge.
When it's time to cook dinner, preheat the grill to medium heat and make sure the grate is very clean and oiled.
While the grill is heating, trim the ends off the green beans.
In a large skillet, heat the avocado oil over medium high heat. Add the green beans.
After about 3 minutes sprinkle the green beans with sea salt and onion flakes. Turn them to coat with oil and the seasonings. Then let them saute for another 5-7 minutes, turning once.
While the green beans are cooking, place the salmon fillets on the grill and discard the remaining marinade.
Cook the salmon until it easily flakes with a fork, approximately 6-8 minutes per side.
Check the green beans are sauteed to personal preference.
Plate both, and enjoy!
Nutrition
Serving Size:
Calories:

213

Fat:

8.4 g

Saturated Fat:

1.3 g

Carbohydrates:

18.1 g

Fiber:

2.4 g

Protein:

28.5 g
Keywords: grilled salmon, gluten free, low carb